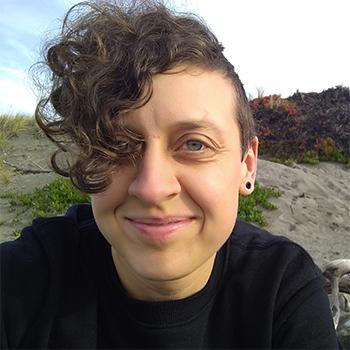 Job Description
I am now an Assistant Professor in Women's Studies and an affiliate of LGBTQ+ Studies at San Diego State University. I study state violence, past and present, specifically focusing on the prison industrial complex and eugenics policies in the United States. I also examine forms of resistance to state violence, ranging from everyday acts of unruliness to the visions for change dreamed by feminist and queer abolitionists, transformative justice practitioners, and disability justice community scholars.
Following the E&C program, I taught part-time at Humboldt, mostly in the Critical Race, Gender, and Sexuality Studies (CRGS) department, and worked in the restorative justice field at a youth serving non-profit. In 2019, I completed a PhD in Politics at University of California Santa Cruz with emphases in Feminist Studies and Critical Race & Ethnic Studies.
The E&C program taught me to think and practice across boundaries and borders, starting with the imagined boundaries between humanities and sciences, and the environment and the social. I articulated the connections between the well-being of human communities and the health of non-human life and the planet. Practically, as a first-generation college student, I was interested in graduate school but not confident about going directly into a PhD program. The environment and community program gave me the cultural and academic resources to go on to graduate education. The faculty created courses and helped me to shape my project in a way that invited critical reading and thinking and provided support for developing graduate level writing skills. All of these things have fundamentally shaped me as a both a scholar and as a teacher.