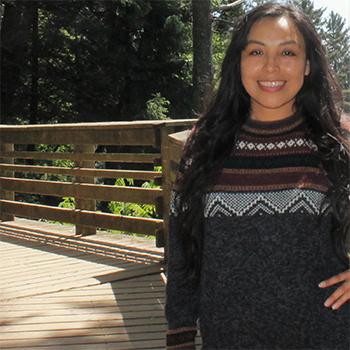 Employer:
Teaching Assistant (University of Toronto)
Job Description
I am currently a PhD student at the University of Toronto studying political science and work as a Teaching Assistant for the graduate-level course Democracy, Dictatorship, War and Peace. I was also a Teaching Assistant for Quechua Language in the Department of Linguistics at the University of Toronto. This unique opportunity to teach my native language (Quechua) helped to strengthen the connections and support within Indigenous communities through revitalization of the language while visualizing the struggles of Quechua communities. 
The E&C program provided me with a holistic approach to multidisciplinary and critical courses that taught me to think critically about dominant narratives about the environment and social actors. The environment and community program supported me by providing me with resources to successfully finish my graduate education.
The variety of interdisciplinary courses that I took helped me to ground my research interest theoretically and practically by engaging the course classes with community work. As an international student in the E&C program, I received immense support from my cohort and professors in different ways. I am deeply thankful for all the support and encouragement that I encountered in the E&C program. After my first year, I was able to rapidly engage with the Indigenous network and Latinx community that I was working with. The program gave resources to finish my research fieldwork and I completed an in-depth study titled Adaptation of customary Quechua Indigenous political organization in the face of modern resource extraction: A case study in the Apurimac region of the Andes of Peru. This study took me to the highest reaches of the Andes to interview and survey Indigenous communities about effects and perceptions of mining on remote communities, especially in relation to their customary forms of political organization. For my PhD dissertation, my research interests navigate broad disciplines including Indigenous political studies, political ecology, and Andean food sovereignty. I hope to expand on my master's degree research that focused on the effect of mining corporations on Andean communities through further comparative studies across the Americas.